Michael (Admin) | Mar 29, 2015 Social Networking

Posted by Canka Net Bilisim
Socialeyes – Spontaneous Activities Nearby ($free)
iTunes Category: Social Networking | Compatible with iPhone, iPod Touch
Canka Net Bilisim website: http://www.socialeyesapp.com/
Meeting with friends has never been easier!
With only 3 taps you let your friends know what activity you want to do and get together spontaneously.
What Socialeyes will do for you:
• Share your plans for an activity and have friends join you on the go
• Get notified when your friends are nearby or up for some activity
• Discover new and interesting people nearby and socialize
• Earn social points and challenge your friends on leaderboard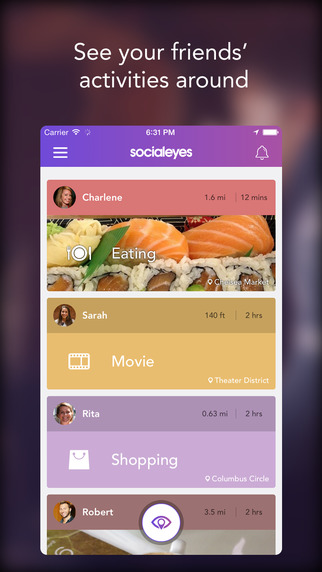 We strongly recommend to use Facebook login, because Socialeyes is way more fun and useful with friends and Facebook login is the best way to make sure you connect with your friends. Your privacy matters to us more than anything, which is why we designed this app to respect your privacy concerns and needs. You are always in control of the sharing options and you can always determine to share on your other social networks.
We need your location so that you can socialize with the people around you. Socializing takes effort, so does this app. Continued use of GPS running in the background can dramatically decrease battery life. You can always turn off the location services inside the app. As long as the location services are on, your chances of running into a friend is much more.